Trend
NEOM and Volocopter Celebrate Saudi Arabia's First eVTOL Flight
NEOM and Volocopter have achieved a historic milestone in electric aviation. NEOM and Volocopter collaborated to make this achievement possible.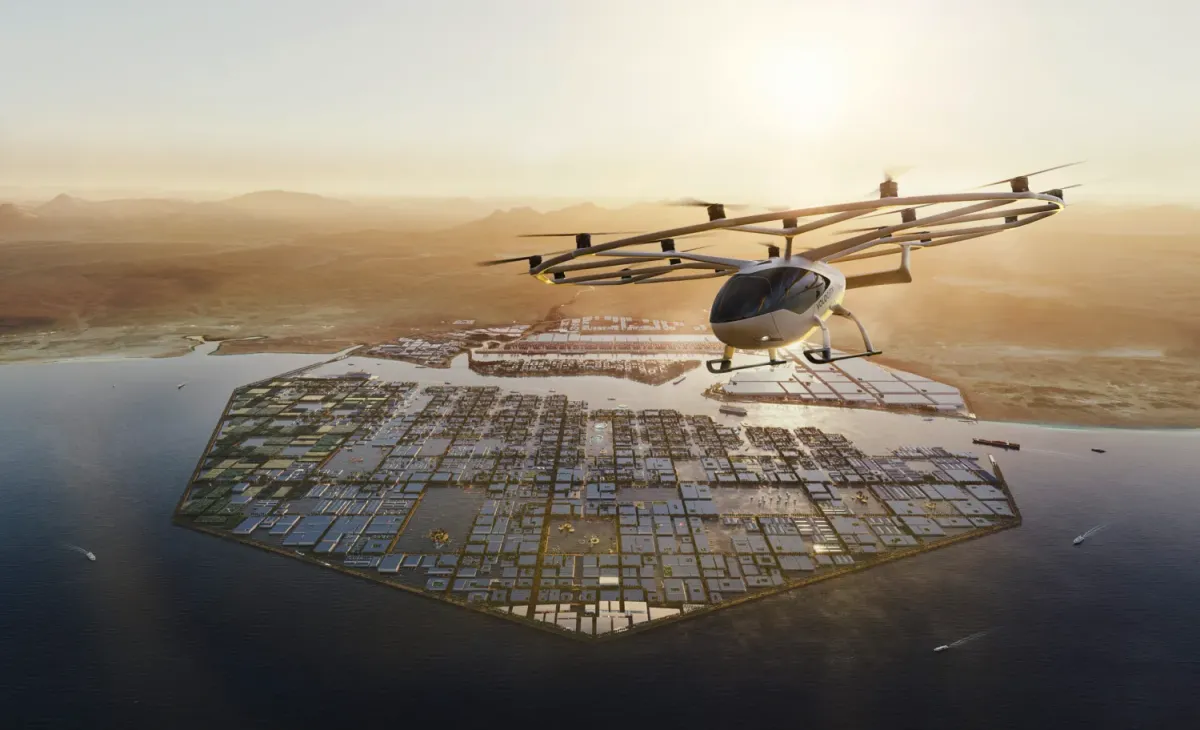 NEOM, the intelligent and sustainable regional development in northwest Saudi Arabia, and Volocopter, the pioneer of urban air mobility (UAM), have achieved a historic milestone in electric aviation. NEOM and Volocopter collaborated to make this achievement possible. They completed the first-ever eVTOL (electric Vertical Take-Off and Landing) aircraft flight in the Kingdom of Saudi Arabia. This accomplishment came after a series of rigorous tests demonstrating the safety and feasibility of this cutting-edge mode of transportation.
The flight test campaign lasted a week, following 18 months of collaboration between NEOM, the General Authority of Civil Aviation (GACA), and Volocopter. They aimed to establish an electric UAM ecosystem and testbed in NEOM, ensuring full regulatory compliance and safety.
The trial flights exhibited the capabilities of Volocopter's aircraft, which can carry two passengers, fly for up to 35 kilometres at a speed of up to 110 kilometres per hour, and fly autonomously or remotely piloted. The aircraft can fly thanks to its nine rechargeable batteries and 18 rotors, which contribute to its stability and redundancy. If an emergency arises, the aircraft is also equipped with a parachute system that will allow it to land without incident.
The test flights also demonstrated the potential for eVTOLs to provide a method of transporting people and goods within and between cities that is quick, convenient, and friendly to the environment. Compared to traditional modes of transportation, the time it takes to travel, the amount of carbon emissions produced, and the amount of noise pollution can all be reduced using eVTOLs. In addition to this, they can travel to remote areas that are inaccessible by road or rail.
Both NEOM and Volocopter are committed to the idea that forward-thinking, environmentally friendly technology will be the key to a brighter future. Electric air mobility reflects NEOM's ambition to revolutionize mobility and transform people's lives. This goal is reflected in the company's development of a multimodal transport system. NEOM and Volocopter established a joint venture in 2021, intending to scale up advanced air mobility. NEOM is a collaborative, global living lab for the future of transportation.
Nadhmi Al-Nasr, CEO of NEOM, said: "The successful test flight of a Volocopter eVTOL is not just another milestone towards the creation of NEOM's innovative, sustainable, multimodal transportation system; it is a tangible example of NEOM as a global accelerator and incubator of solutions to the world's most pressing challenges. Driving the development of smart, sustainable, and safe mobility systems will improve livability and connectivity in cities around the world and reduce carbon emissions, creating a cleaner future for all."
His Excellency, Abdulaziz A. Al-Duailej, President of the General Authority of Civil Aviation (GACA) of the Kingdom of Saudi Arabia, said: "This safe and successful test flight represents an important milestone of the Saudi aviation sector and another steady step towards achieving the aviation sector's strategy through innovation and employing emerging technologies to create new industries that contribute to the output GDP and create more jobs. It also confirms GACA's commitment to enabling the safe integration of innovative air transport patterns that improve the mobility experience of individuals in urban areas and the quality of life in the Kingdom of Saudi Arabia."
Christian Bauer, Chief Commercial Officer and Chief Financial Officer of Volocopter, said, "It is beyond exciting to see our work from the past 18 months come to fruition. We are proud to be part of this groundbreaking project with NEOM and GACA that showcases the potential of eVTOLs in Saudi Arabia and beyond. We believe that electric air mobility will play a key role in shaping the future of transportation globally, and we look forward to continuing our collaboration with our partners to make this vision a reality."