Google Wallet redesign works more like Apple Passbook
Google Wallet is coming to all Android phones this week, but it's hardly the same app that Google first launched two years ago.
The new Google Wallet appis more like Apple's Passbook, containing loyalty cards for brick-and-mortar stores. With supporting merchants such as Office Depot and Foot Locker, you can check your rewards balance and get Google Now notifications when you're near a store.
A few retailers, including Belly and Red Mango, allow you to sign up for rewards directly through the Wallet app.
Unlike Passbook, Google Wallet lets you scan in barcodes from physical loyalty cards.
Other apps such as Key Ring offer this functionality already, but having loyalty cards integrated with the Android OS could be helpful if more retailers add Google Wallet support over time.
The Wallet app also acts a central location for Groupon-like special offers from stores and restaurants. You can purchase these offers through Google+, Google Search, Google Maps, or Google Offers, and they'll all show up in the Wallet app.
You can browse for nearby offers directly through the app as well. Google says it will support coupon sites such as Valpak starting later this week.
Fund transfers now available in Wallet
The other major change is the ability to send money. You can transfer funds to anyone in the United States with an email address, but the recipient will have to sign up for Google Wallet to receive the funds.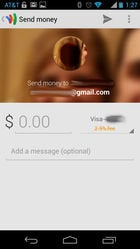 Transfers from bank accounts and from your Google Wallet balance are free, but there's a 2.9 percent transaction fee to send money from a credit or debit card. Google had already been testing money transfers through Gmail, and users who send money through the Wallet app will get early access to Gmail transfers as well.
The NFC-based payment features of Google Wallet aren't going away, but there aren't many phones that support it to begin with. For years, wireless carriers have banished Google Wallet as they build their own competing service, called Isis. That's not going to change, even though Isis is still in limited trials with a nationwide launch coming later this year.
Like it or not, Google needs to take a different approach if it wants to be hooked into what people buy in the real world.
Google says the new app is rolling out this week in Google Play. If you're feeling impatient and adventurous, the folks at Android Police have posted the APK file, which seems to work just fine… read more [via techhive]