New Technology Could Replace HDMI With Ethernet Cables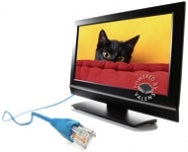 Are HDMI's days numbered? They might be if a new a new audio/video (A/V) cable standard developed by four tech companies catches on.
The newly finalized cable technology, known as HDBaseT, transfers audio and video signals over ordinary RJ-45 ethernet cables. It's the result of an effort that started a little over six months ago by LG, Samsung, Sony Pictures Entertainment, and Valens Semiconductor.
The venerable HDMI cable was first produced back in 2003, and the rise of Blu-ray and the growing popularity of HDTV fueled its adoption.
While HDMI has several advantages to other sorts of A/V cables, it isn't without its problems. The technology often suffers from switching delays and is known for its limitations when it comes to cable length–problems that HDBaseT could solve.. Read More [via pcworld]